Danny Green- PG/SF with the Spurs
In a battle of division leaders, Chris Paul's Clippers is guarded by San Antonio Spur Danny Green .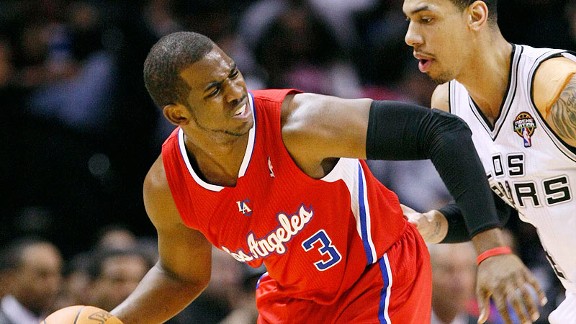 SAN ANTONIO — San Antonio Spurs point guard Tony Parker sat out Friday night's game against the Los Angeles Clippers with a strain of the right quadricep.
Parker injured the muscle in the Spurs' 118-105 win over the New York Knicks on Wednesday night. The four-time All-Star has endured a series of recent injuries, the strained quadricep just the latest.
"(Parker) had a banged-up wrist and his right calf was bothering him," coach Gregg Popovich said. "Then he did a number on his thigh. We 'MRI-ed' it and all that to make sure it wasn't torn or ruptured — and it wasn't — but it's not in great shape. He needs to sit out. He could probably go out there and play and be half-assed, but that doesn't make much sense in this season."
There is no timetable for Parker's return.
Parker is averaging 19.5 points and 7.9 assists per game, with a true shooting percentage of 53. His Player Efficiency Rating of 22.2 is second on the Spurs to guard Manu Ginobili.
Reserve guard Gary Neal started in place of Parker in the Spurs' backcourt, with guard Danny Green seeing additional minutes.
"Manu (Ginobili) and Gary (Neal) will go back and forth at the 1 position and the 2 position," Popovich said.
The Spurs' depth at the point guard position was already depleted, with backup T.J. Ford recovering from a neck injury he suffered on Wednesday night after falling to the floor. X-rays were negative. Ford has a history of neck and spinal issues dating back to his playing days at the University of Texas.
"That's just a process," Popovich said. "He's still out, obviously. When he feels comfortable — I'm sure it's half physical and half mental. It was a scary situation, so we're going to let his body and his mind calm down a little bit."